BioAfrica's Extraction Experience
Over the last 7 years BioAfrica has extracted more than 60 000 tons of plant matter. This taught us that every step of the distillation process is vitally important including the following steps: harvesting, how to store fresh plant matter,how to generate steam, and the optimal time each different plant type is distilled. Cost is the most important consideration; most people think that a 'cheap big pot' is a bargain, often forgetting that steam generation is the single most expensive cost factor of essential oil production. This consumes profits. Investing in an energy efficient distillation system not only leads to the responsible control of greenhouse gases mostly CO2 but also ensures that the farmers are around for many seasons.
BioWorkshop
BioAfrica builds all distillation and extraction equipment in our own factory. BioAfrica has equipped a full workshop consisting of benders, rollers, lathes and 25mm plasma cutters for professional workmanship.
Our qualified workmen weld high grade 314 and 306 stainless steel with our argon welders. BioAfrica's light weight mobile extraction equipment manufactured from H4 aluminium is welded by our AC welder. All distillation equipment is independently pressure tested for maximum safety and reliability.
We are able to offer our clients a range of options. From aluminium or stainless steel trailers to harvester or any other equipment required by our clients.
The BioAfrica list of products includes:
Boiler coal, wood or bio mass fired.
Extraction and distillation equipment
Oil separators
Ethanol Bio Fuel distillation equipment for 1 to 5 tons
Honey processing equipment stainless steel
BioAfrica's BioStills
The BioStill50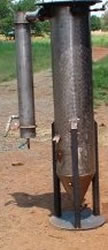 It is extremely difficult to guess exactly when the essential oil bearing plants yields the right quality and quantity oil. To overcome this 'guessing game' a small 50 litre volume distillation pot was produced for a producer in Lesotho. It runs on single-phase electricity and is completely portable.
The BioStill50 only needs 40 litres of water for the cooling of steam to hydrolyte. The BioStill50 will yield small samples essential oils, enough for most buyers to determine quality. With an average distillation time of about 2.3 hours the still is easy to operate and is cleaned in matter minutes.
The BioStill50 is made from Stainless steel. It costs R14500 per unit and requires a 50% deposit with a delivery time of 14 working days.
It Includes:
50l retort with lid
Condenser and pump
Oil separator
Electric steam generator
The BioStill200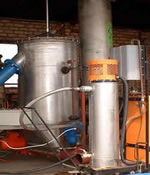 The BioStill200 is ideal for the small to medium sized essential oil farmer who has up to 5 ha of essential oil crops; it is perfect for; lavender, rosemary, thyme, rose geranium, spear mint etc. The BioStill200 can distill up to 1 metric ton of plant mater a day. It is easy to operate and discharging the spent plant matter takes only a few minutes.
BioAfrica has used one such unit for almost 5 years - in fact this unit has produced many hundreds of thousands of Rands of good essential oils for a very low investment. Its low electricity consumption allows it be used almost anywhere.
If an electric steam boiler is needed it requires a 3phase 360 to 400 volt system, with about 80 amps. A water intake of about 100 litres per hour and a cooling system of 3000 l/h a surface area of about 50m 2 is required and a discharge heap of 500m 2 is required. The average still time of 1.5 hours.
The BioStill200 is made from Stainless steel. It costs R49500 per unit excluding boiler and requires a 50% deposit with a delivery time of 14 working days.
It Includes:
200l retort with lid
Condenser and pump with water cooler
Oil separator
Optional - Electric steam generator
The BioStill2000
When the serious essential oils farmers have reached the 5 to 15 ha capacity the BioStill2000 becomes the indispensable tool to reaching agricultural viability.
Designed for the larger volumes of plant matter of up to 20 t per ha. Suitable for the leafy lavender, rosemary, thyme, rose geranium, spear mint varieties. But not limited to these.
One such unit has been extensively used for the past 5 years with total satisfaction. 50% of the essential oil quality is determined by a combination of correct genetic variety of essential oil bearing plant matter and good plant husbandry but the other 50% is no mystery but the efficient distillation of ripe plant matter and the scientifically researched and proven BioStill2000 design.
The BioStill2000 is made from Stainless steel. It costs R59500 per unit excluding boiler and requires a 50% deposit with a delivery time of 14 working days.
It Includes:
2000l retort with lid
Condenser and pump with water cooler
Oil separator
Optional - Electric steam generator
Optional Extras for all BioStills
Commissioning on site
Trailer mounting
Cooling Tower
Wood or coal fired boiler
Training