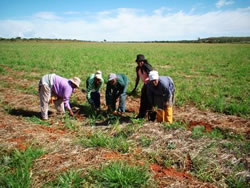 What criteria are needed to become a BioAfrica farmer?
Land under irrigation , at least 10 Ha , preferably centre pivot
Enough water as allocated as per legal requirements
Input costs i.e. the cash to pay per ha for essential oil crops planted.
Honest, sober Dynamic in character
Enthusiastic willing co workers
If you fulfil these basic criteria then you could become part of the fast growing essential oils market
How do we make money for our farmers?
BioAfrica sells the extracted plant extract and pays the farmers 70% of the sales price.
BioAfrica makes its profit form the 30% of oil sales.
BioAfrica only seeks serious farmers who are willing to have a long term relationship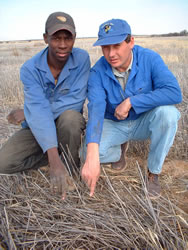 How is BioAfrica funded?
BioAfrica makes a profit from sales of extracts. As extracts are sold farmer are paid within 21 days
BioAfrica combines extracts from the various farmers.
This enables BioAfrica to regulate the quality and the quantity of the extracts, markets and profits are therefore easier to control.
Why is BioAfrica in the essential extracts market?
A unique competitive advantage.
Profits are good for both farmers and BioAfrica.
We work with large international markets.
Why should you become a BioAfrica farmer?
Sharing of resources
HUGE CAPITAL SAVINGS - BioAfrica owns all planters, picking equipment as well as the Steam stills saving farmers millions in equipment
Trained personnel for all processes involved
Easier access to information
Market influence by combining the extracts to increase quantities
BioAfrica gives advice and mentors the growing process
Farmers can count on BioAfrica as We only make money IF they do!!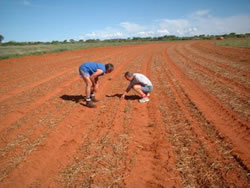 What does BioAfrica offer you?
Farmers don't need expensive apparatus like special planters or extraction machines which are only required twice per year.
BioAfrica has trained personnel to do all necessary work.
BioAfrica supports you during the planting, germination, growth, harvesting and extraction process.
BioAfrica has several years experience in the planting and extraction from herbs and medicinal plants.
Market influence by combining the extracts to increase quantities
BioAfrica can influence the market by combining extracts received from various farmers
Farmers can count on BioAfrica as We only make money IF they do!!
If batches are out of spec they can be enriched with extracts of a different source sold, provided that enough quality extracts are available.
THE STEP BY STEP FUNCTION
Farmers contact BioAfrica
BioAfrica explains the process and prepares quotations
Farmers pay planting per ha costs
BioAfrica makes appointments with farmers for planting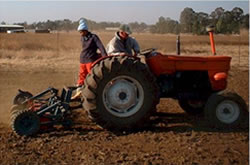 Field preparation for a fine seed bed is the farmers responsibility
Planting is BioAfrica's responsibility
BioAfrica insists on using its own seed as this was tried and tested
BioAfrica brings planter and trained personnel
Farmer must provide accommodation and food for BioAfrica personnel
As soon as the planting has been completed, seeds need to be irrigated
After the first irrigation top soil must be kept moist for good germination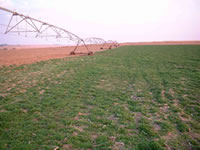 The growing phase is the farmers responsibility which includes the following:
Farmers are to compile written reports each and every week and forward these to BioAfrica either by email, fax or using our online facilities.
Reports must contain information regarding to the progress, condition and quality of the plants, i.e. current meteorological, climate and weather conditions, frequency of irrigation and amount of water administered, the administering of manure, fertilizer; and any other organic and /or inorganic material.
Information regarding the identification and administering of poison, herbicide and insecticides and other chemicals to plants and/or the soil in which such plants have been planted.
Weed control is the farmer's responsibility
BioAfrica will do regular inspections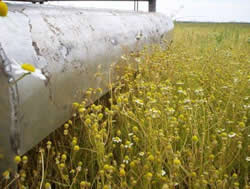 Harvesting is the farmers responsibility, but in close consultation with BioAfrica
This is an exciting part of this of the process care should be taken to ensure that no weeds or foreign plant matter in harvested with the essential oil. As this could contaminate the crops and affect quality.
Farmers will need tractors or people to harvest
After the plant matter has been harvested care should be taken to extract this in as soon as possible as the plant matter will start to ferment, thus heating the plant matter which could result in evaporation of essential oils from the plant matter reducing yields.
Some plant matter will need to be dried and even stored before it can be extracted. Most other essential oils bearing crops need to be extracted with in hours of harvesting.
Usually a shed with adequate ventilation is good enough to store the plant matter before extraction.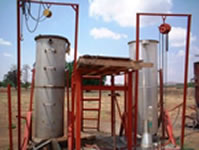 Distillation is BioAfrica's responsibility
The farmer must supply a shed or "afdak" under which extraction can take place
During the extraction process he must provide 14 000 litres of water per hour per day (this water is recycled for cooling)must be made available and three phase electricity at 50 KVA, as well as a neutral and earth wire with a distributor board (also known as DB board).
Food is also required as well as accommodation
BioAfrica will be responsible for the extraction process
BioAfrica takes responsibility for the selling the extracts
Payment will take place 21 days after the extracts have been sold